Groups & Meetings
---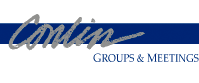 WHEN IT COMES TO EVENTS, SUCCESS IS IN THE DETAILS...
Whether it's a business meeting, conference, or training seminar, successful events require careful planning and expert, hour-by-hour management of details. Details that can easily overwhelm many organizations. That explains why, since 1959, businesses, educational institutions and professional associations have turned to Conlin Groups & Meetings for expert assistance.
Detail-Oriented Planning Services
Conlin Groups & Meetings offers you as much —or as little—assistance as you need to plan and promote your upcoming event.
Many clients ask us to handle the entire meeting management process, from preliminary timetables and site selection to marketing, registration and follow-up. Others rely on us for selected services such as negotiations with hotels and conference centers, travel discounts, or Web sites.
In some cases, clients have little or no experience with event planning. In other cases, we work in tandem with an organization's meeting planner, coordinating expertise and resources.
Whatever your needs and preferences, whatever your circumstances, we will work in the way that's best for you.
Customized Planning Services for Events Large and Small...
Conlin Groups & Meetings is equipped to handle any group event of any size. Our comprehensive planning services and quality-driven philosophy have earned us a stellar reputation and a place among the country's leading event management companies. And because all services are customized, the level of our involvement is determined solely by your needs, requirements and budget.

Near and Far...
Distance is no obstacle. We have worked with clients throughout North America, Europe and beyond on events taking place at local, national and international destinations. Our reliable, world-wide network of event planning associates make possible a smooth and rewarding program experience for you and your participants.
Before the Event: Marketing and Promotional Services
Destination Analysis
To ensure that your travel arrangements are compatible with your budget, Conlin Groups & Meetings can produce a destination analysis that includes a summary of negotiated cost options for hotels and transportation as well as exclusive hotel, air and ground transportation discounts. This analysis will enable your organization to determine the most convenient and cost-effective location for your event.

Site Inspections
Based on your chosen destination, our program coordinator will conduct a thorough site inspection and prepare a detailed report.

Negotiation Assistance
Working on your behalf, reservation and customer service teams from Conlin Groups & Meetings will negotiate significant discounts with hotels, ground transportation providers, air carriers, and vendors.

Cancellation Procedures
At your request, our management and staff members will make recommendations for cancellation penalties and ongoing risk management of hotels, air and ground transportation.

Marketing and Communications
To help promote your event, our hand-picked team of communication specialists will create compelling Web sites, brochures, invitations, and/or postcard mailer campaigns. In addition, we can produce manuals, conference workbooks and other materials for your event.
Before and During the Event: Online Registration and Event Reports
On-Line Registration
The Internet is an excellent way to promote your event and drive up participation by offering on-line registration. We can provide the pertinent information for your current Web site or create a link to a private registration site for your organization. Registration capabilities include:

Processing of registrations via Internet, e-mail, fax and standard mail
Monitoring and management of accommodation arrangements
Mailing of information packets
Airline ticketing assistance for participants

Event Reports
Our complete data tracking and reporting services are maintained in database software specifically designed for meeting planners. This system generates reliable, customized reports, based on your preferences. Sample categories include:

Participant/Guest List(s)
Arrival/Departure Air and Hotel List(s)
Registration Report
Session/Workshop Lists
Statistical Report
Financial Summary
During the Event: On-Site Assistance
The services of Conlin Groups & Meetings extend far beyond the planning phase. As many clients have discovered, our professionals can be invaluable during the event itself, providing support and managing the crucial details of everything from registration to meals.
Our professional on-site meeting services include:
Welcoming and greeting participants
Supervising hotel staff and function space
Coordinating ground transportation - transfers, tours, shuttles and limos
Arranging company/product signage
Vendor coordination
Overseeing set-up of audio visual equipment
Collecting and monitoring of registration fees and balances
Providing name badges and on-site information packets
Distributing and collecting participant evaluations
Assisting with on-site air travel changes
Consolidating invoices and billings for easier budget management
After the Event: Post-Event Evaluation and Follow-Up
The days immediately following a conference or other major event are often some of the busiest and most challenging. During this time, Conlin Groups & Meetings can assist clients with a variety of support services.
Invoicing and Budget Management
For your convenience, our staff members will consolidate and reconcile all bills and invoices generated by the event.

Post-Event Evaluation and Follow-Up
Some of the most significant and useful information is often generated after a program. Following an event, Conlin Groups & Meetings professionals will meet with client representatives for an evaluation session. During this exchange, we will present a complete cost analysis and discuss feedback and recommendations received from participant surveys and evaluations.
---
---
Benefits at a Glance
When you choose to work with Conlin Groups & Meetings, you put yourself in an excellent position for reducing costs, assuring efficiency and increasing the likelihood that your event will be a success.
Among the Many Advantages You Can Expect Are:
A full slate of event planning services, modular and customized, to enable you to pick and choose as needed
Since 1959, experience in planning events of all sizes for diverse organizations
Discounts and cost savings on everything from air travel and hotels to audio visual equipment and food/beverage services
Expert assistance at every phase of the planning and management process
A commitment to customer satisfaction that starts with the first meeting
Some Noteworthy Facts about Event Planning:
Costs for meetings have increased, on average, 12% annually over the past decade
Group expenditures represent 10% to 35% of corporate travel and entertainment budgets
Only 35% of corporations consider themselves successful at managing group travel