October 3, 2019
Kick Off Your Sandals (Resorts) in St. Lucia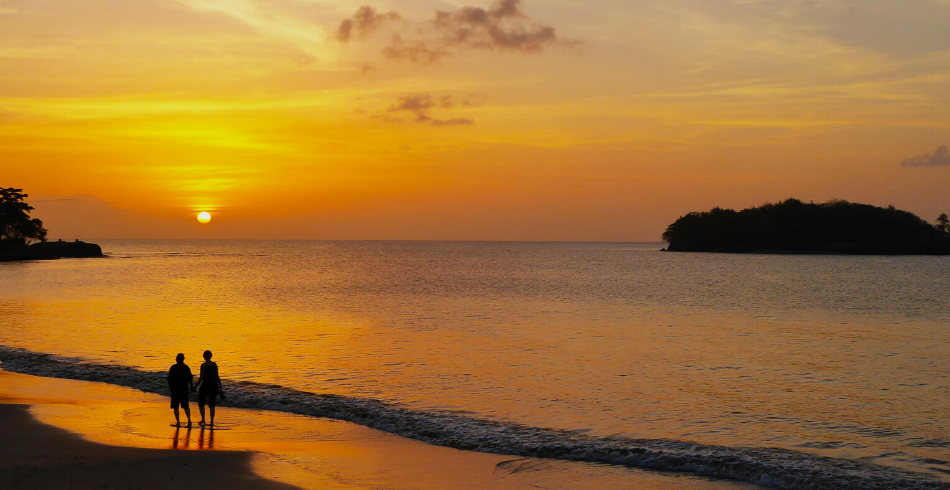 Kara Swayze, a Leisure Travel Agent based in Grand Rapids, spent a week in paradise celebrating her wedding anniversary. Kara enjoyed 5 days of vacation in St. Lucia, an East Caribbean island in the West Indies, sitting south of Martinique and northeast of Barbados. We sat down with her to hear about (and vicariously live through) her amazing trip!
Q. When did you visit St. Lucia? Who did you go there with?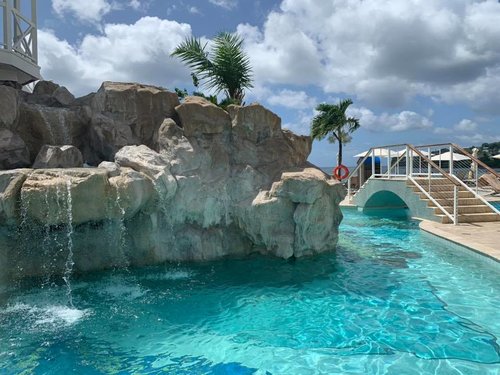 A. I was there in June of this year (2019) and I went with my husband!
Q. What was the occasion and why did you choose St. Lucia?
A. We were celebrating our 15-year wedding anniversary! The reason why I chose St. Lucia was because at a previous job, the company's niche was destination weddings and honeymoons. I found that couples love the Sandals resorts because they're adult-only all-inclusives, and St. Lucia happens to have three amazing Sandals properties that are great for honeymooners. I had accumulated quite a few Sandals points over the years, and thus was able to finally visit at a low cost!
Q. How did you get there?
A. We flew on Delta Airlines out of Grand Rapids with a layover in Atlanta. It took a total of about 10 or 11 hours including the transfer to our hotel. That route is the best and quickest option for those traveling from Grand Rapids if they don't want to drive to Detroit or Chicago. From the airport, we took the Sandals shuttle, a shared shuttle that goes to all three resorts. There's a private lounge for Sandals guests at the airport where you can get refreshments while you wait for the shuttle.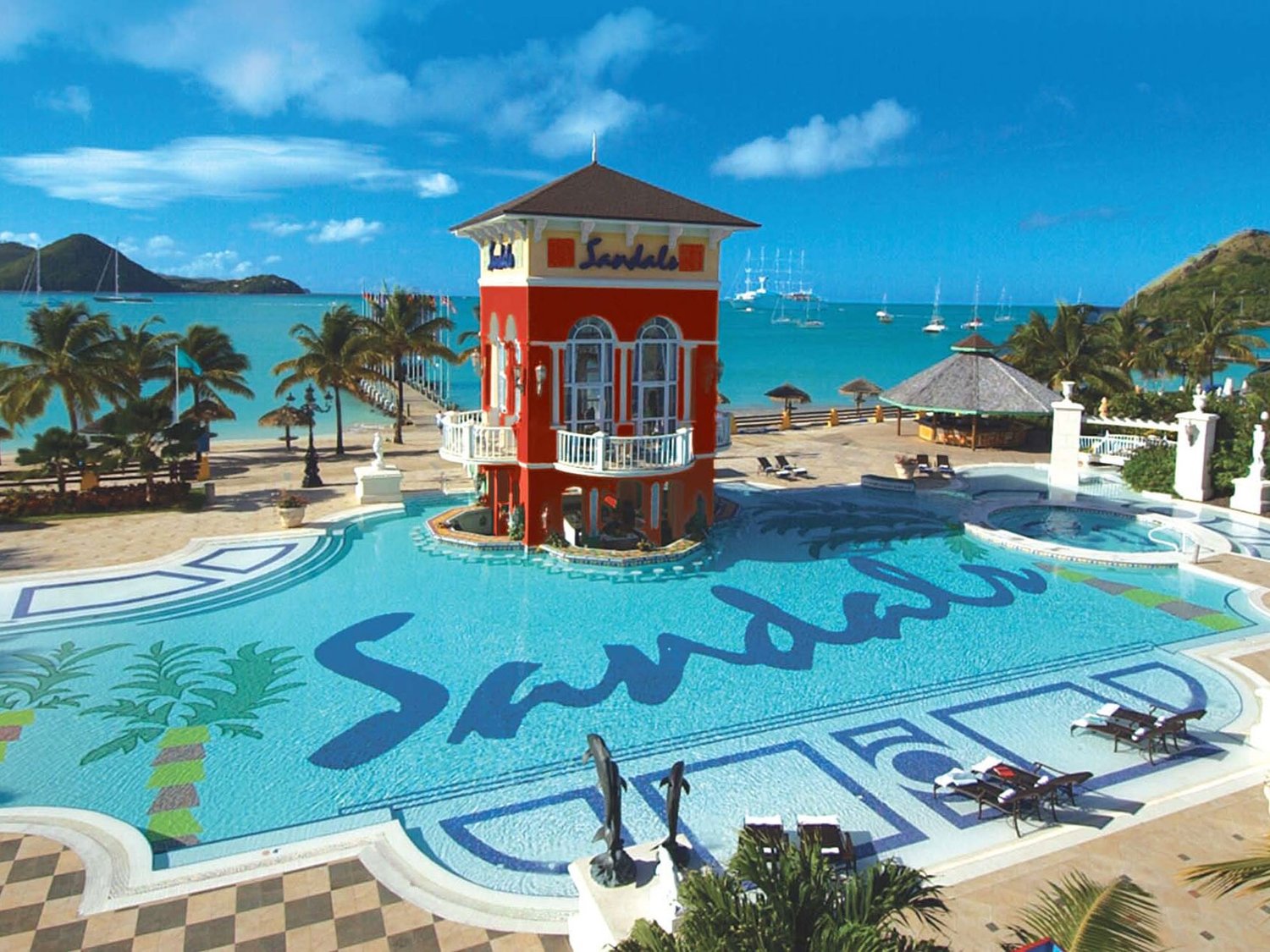 One thing to note is that I would compare St. Lucia to Hawaii in that it was formed by volcanoes, so the shuttle route includes switchbacks that could make some people carsick. But the shuttle is free and included in your stay, and only lasts about an hour.
Q. Describe where you stayed in St. Lucia.
A. The island isn't that large, the airport is down in the south, and where we stayed was further in the northwest region of the island. The Castries area, where we stayed, is a popular tourist area populated with resorts and hotels.
We stayed two nights at La Toc and three nights at Halcyon Beach, two of the three Sandals Resorts properties on the island.
Q. Can you briefly describe what your itinerary consisted of?
A. I really wanted to take this opportunity to visit all three Sandals resorts to ultimately be able to better serve my clients. There's Halcyon Beach, which is the smallest and most private Sandals resort. There's La Toc, which is the middle price range of the Sandals properties. What people love most about that one is that part of the resort is up on top of the cliff which offers amazing views! Last but not least, there's Sandals Grande St. Lucia is the largest, most popular, and most expensive of the three and offers the most restaurants, activities, and amenities.
There aren't a lot of cultural activities and excursions offered in St. Lucia like you might find in vacation cities in Mexico for example, but for us it was more about experiencing each resort.
Q. Best way to get around?
A. One of the most attractive parts of Sandals resorts in St. Lucia is that the shuttles are great for getting around, and they have a "stay at one, play at three" mindset. You can visit all three resorts and take the shuttles around if you're staying at a Sandals.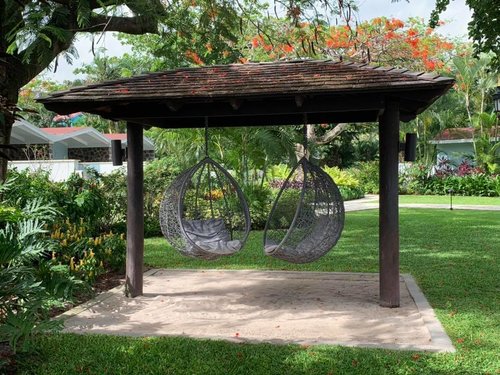 Q. Why would one want to visit a different resort from the one they're staying at?
A. Because each one has something different to offer. For example, we loved the privacy of our room at Halcyon Beach, but we loved the restaurants and the beaches are better at the Grande.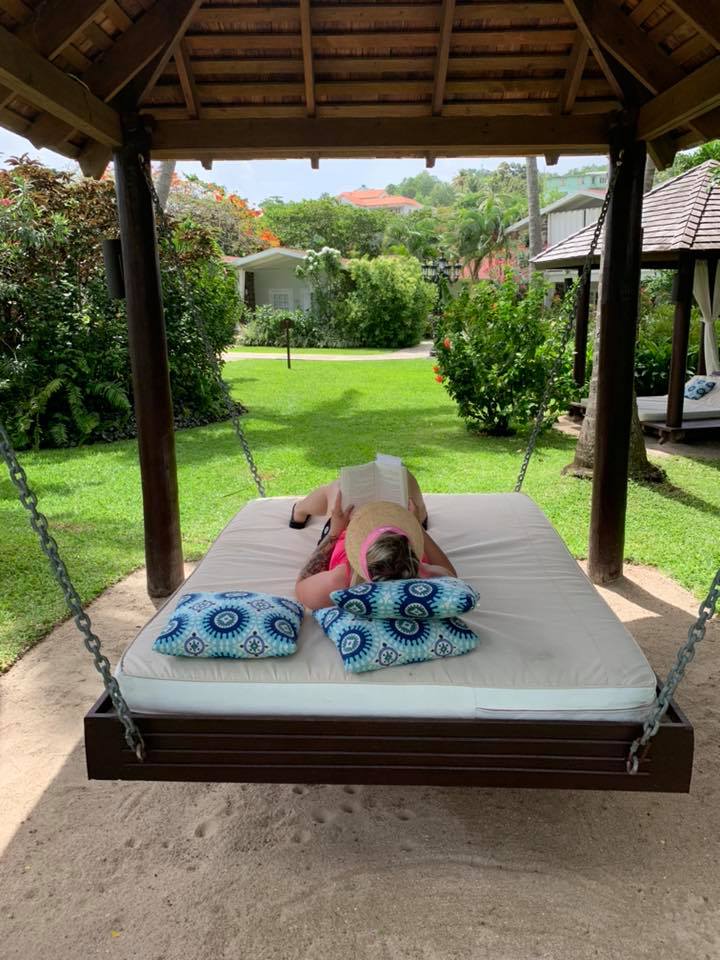 Q. What was the climate there and what did you pack?
A. It was hot, humid, tropical weather. We packed really lightly and brought just beachy clothes. At Sandals, there's not really a dress code so you can be as dressed up or dressed down as you want.
St. Lucia is close enough to the equator that you could go and get good weather basically any time of year. I would say November and December are the rainier months, and June through August can get really hot.
Q. What was the best thing or things you ate?
Definitely the jerk chicken. I also had a lot of fish and seafood there, and it was all delicious. We always did the buffet for breakfast, then a restaurant on the beach of whichever resort we were at for lunch, then for dinner we particularly liked the antipasti buffet at the Italian restaurants, or the seafood restaurant called Dockside Kelly's.
Q. One thing in particular you're glad you experienced?
A. I'm glad we took advantage of the opportunity to visit all three resorts. From my perspective as a travel agent, it's helpful for me to get to know each resort so I can match them with the resort that will best suit their tastes.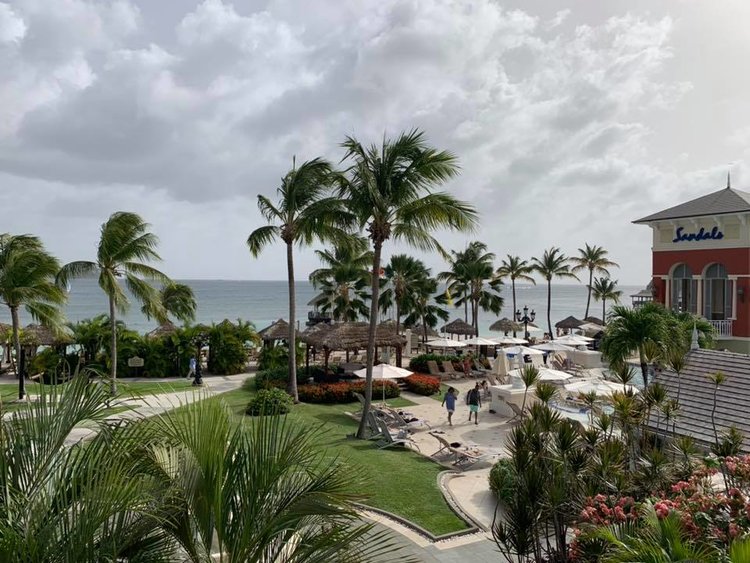 Q. What is the currency there?
St. Lucia uses the Eastern Caribbean dollar, but I have a travel credit card I used if I needed to purchase anything. The staff at the resorts and restaurants accepted US Dollars when I tipped them.
Q. What kind of traveler or trip is St. Lucia best for?
The Sandals resorts are best for honeymooners or for couples looking for a romantic getaway, because Sandals is adults-only, and couples-only. However, St. Lucia is great for anyone who is drawn to the Caribbean. St. Lucia is one of the most beautiful islands in the Caribbean and I think in the world! If you don't want to say at a Sandals resort, there are plenty of other all-inclusive resorts that are also wonderful. If you're looking for a beautiful, relaxing beach vacation, St. Lucia is a great option.
Q. Anything else you want to share about your trip?
A. The only thing I would add is that 5 days there was enough, but because the airfare to get to St. Lucia can be expensive, I would recommend staying for as long you can to make the most of it. It's a beautiful country and you'll never get tired of it!