June 5, 2019
Sandy in the Desert: A Look into Dubai and Abu Dhabi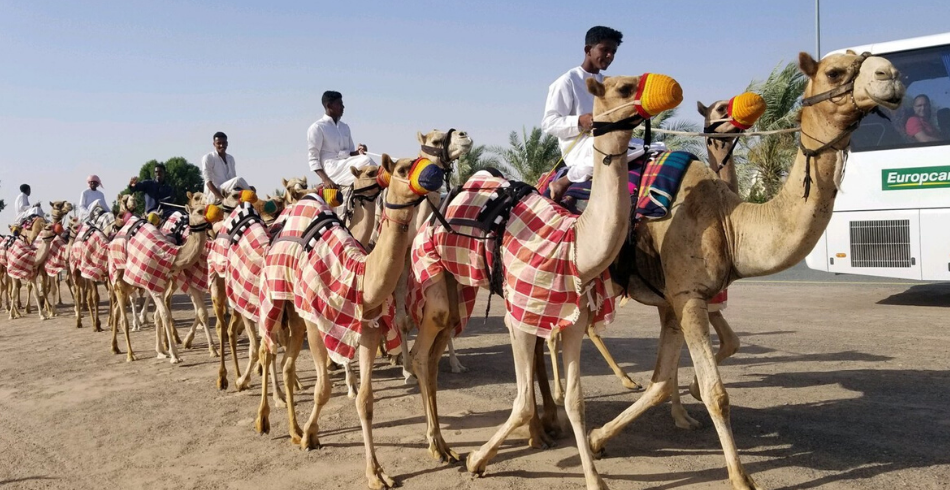 The UAE has a lot to brag about. The country is immaculately clean, it's safe, it's home to the tallest building in the world (Burj Khalifa), and the country is known to have more millionaires and billionaires than any other country.
Dubai and Abu Dhabi–the two main cities that attract the most tourism, are very different from one other. Abu Dhabi is rich in culture and history, while Dubai is much more modern, political, fast, fun, and wealthy. Wherever and whenever they can make improvements on something, they'll do it and go a little bit over the top.
However, even though Dubai is very modern, their cultural and religious practices are still very conservative. The ladies are still elect to wear the traditional abaya―a long, black flowing light coat over their clothing, and they don't date without their parents' permission.
One of our veteran leisure agents and seasoned world travelers, Sandy Kulenkamp, visited the UAE for the first time earlier this spring. She told us that even though there wasn't anything specific that she wanted to see or do, she was very delighted that she got to go, as this trip was one of her top bucket list destinations.
"The people are so proud of their history and our guide wanted the group to see everything. We moved around our pool and leisure time because there was always one more thing our guide wanted us to see which was neat," explained Sandy of her guide and trip schedule.
Sandy shared with us some insight about traveling around the UAE and the highlights from her trip.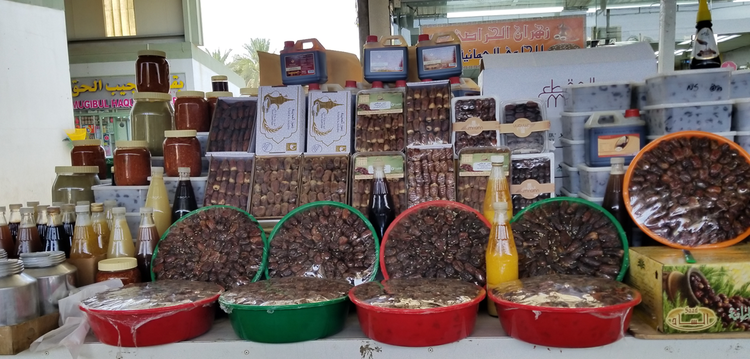 What's the best way to get to the UAE from Detroit?
We flew on Delta into Abu Dhabi and we flew out of Dubai.
We left Detroit on April 28th, and our flight arrived at about 8:00 PM on the 29th. We changed planes in Amsterdam, and it was 7.5 hours there and another 7-7.5 hours to Abu Dhabi.
I wanted to fly on Emirates because I hear their service is supposed to be the best, but here's one thing to know: Emirates is Dubai's airline so it can fly into Dubai but may not fly into Abu Dhabi, and Ethiad can fly into Abu Dhabi but may not fly into Dubai.
We had one woman in our group who flew in on Emirates. She was from the East coast, and she said it was an adventure getting there. Apparently on Emirates, if you're going to Abu Dhabi from Dubai, they include the price of a local bus ticket in their airfare to transport you between the two cities. But she said when she landed, there was nobody there to tell her where to find the bus. Everyone spoke English and the signs were in English, but she still had a hard time finding the right bus, so that's something to be cautious of and research before you go.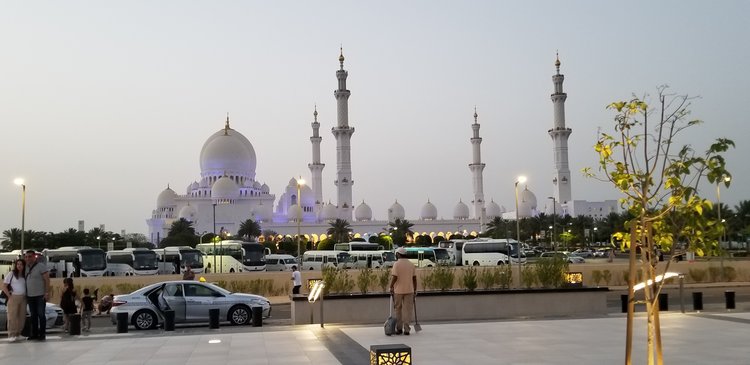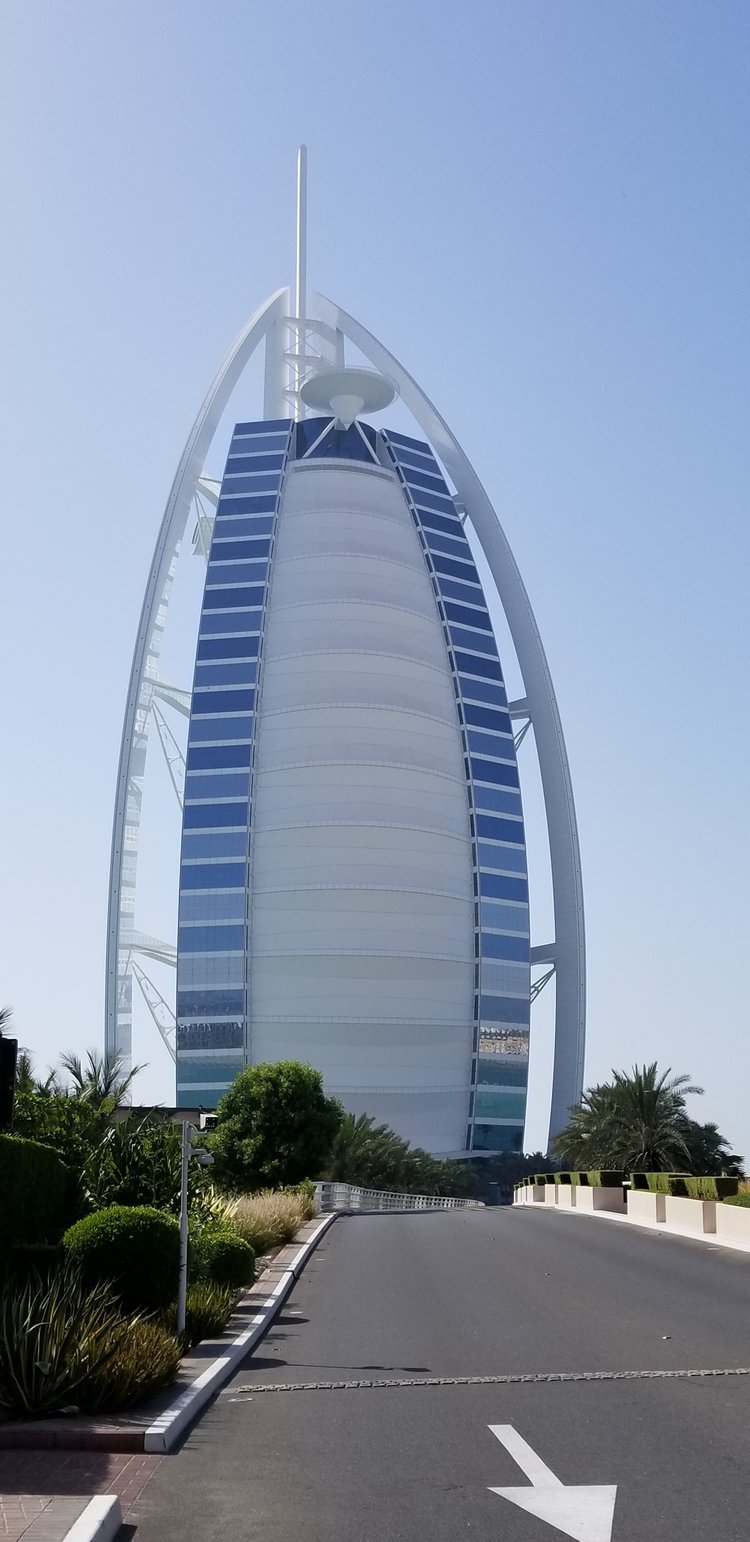 What hotel did you stay in? Which hotel would you have liked to stay in?
We stayed in Radisson Blu hotels in each of the cities which was comfortable, but it's a chain hotel, and doesn't match up to the beautiful luxury hotels scattered throughout Dubai. While we were there, we got to see the Emirates Palace. It was lovely, but I think the least costly hotel room that night was $2-3K. We also checked out the Burj Al Arab Hotel and the least costly lead-in room there was $6K a night. There are guards standing outside the gate, and you can't even go up their driveway without a reservation. So, while it would've been nice to have stayed there, it was out of our price range unfortunately!
What's the best way to get around the area?
Any group tour will take travelers around in a private coach, but if you're traveling independently, it is suggested to take a taxi over an Uber. I can't tell you why because it wasn't explained to me, but that is what our guide told us. While we were there, we didn't see any buses or subways, but they have trains similar to the L in Chicago.