April 30, 2019
Say "Oui" to French Polynesia – with Paul Gauguin Cruises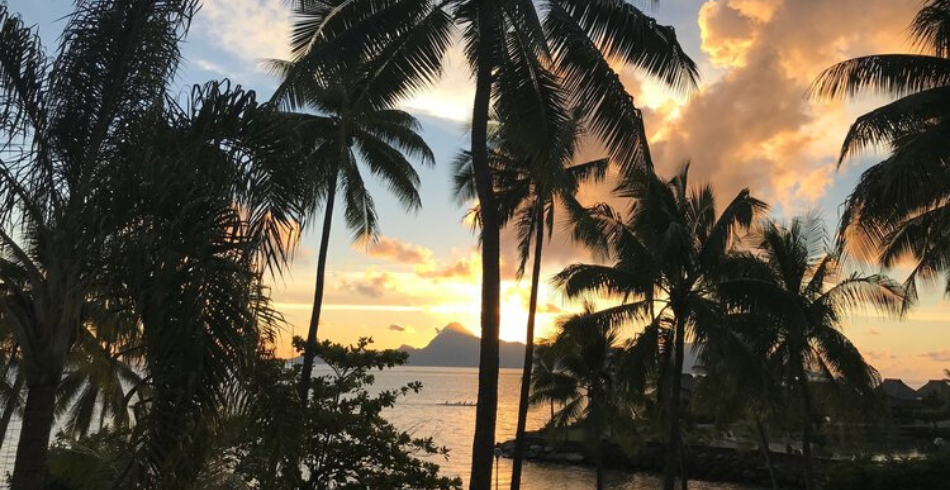 When you close your eyes and picture paradise, what do you see? Chances are, it looks a lot like the French Polynesian islands of Tahiti and Bora Bora. With its pristine waters, delicious and fresh seafood, slow island life, and vibrant ancient culture, what's not to love about this exotic and remote corner of the world?
Janet Torno, a Conlin Luxury Travel Consultant, recently sailed through these islands on luxury cruise line Paul Gauguin. Gauguin has specialized in sailing French Polynesia for decades, so they have vast knowledge of the islands, and provide a uniquely tailored, luxurious experience to remember. We spoke with Janet on what her experience was like, as well as advice she has for those considering a South Pacific cruise with Paul Gauguin.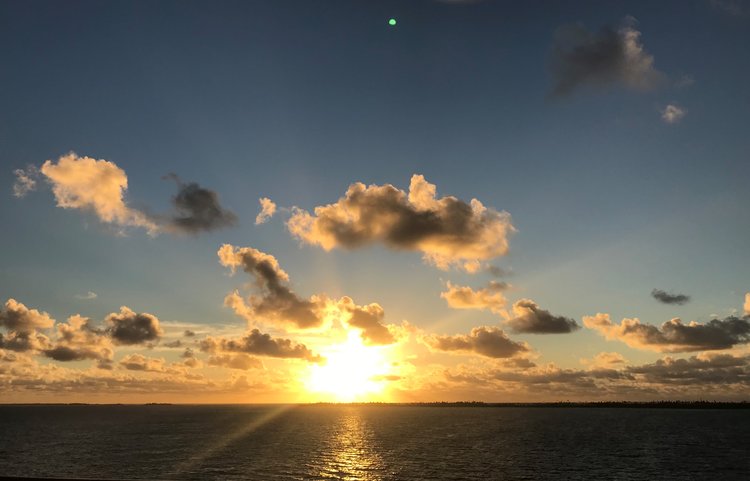 How did you get to Tahiti from Detroit?
We flew Delta from Detroit (DTW) to LAX. We had to retrieve our luggage as we switched to the international terminal, but it all went smoothly. Travelers can also fly through San Francisco or Honolulu and tack on a few sightseeing days there, but otherwise I recommend stopping in Los Angeles. From there, we flew on Air Tahiti Nui to Papeete, the largest city in Tahiti. This is also where we boarded our Paul Gauguin cruise ship. They help transfer your luggage from the airport to your room on the boat and back, which was incredibly helpful!
What is the currency and exchange rate? Are prices already set or do you have to bargain/barter?
The currency is the French Pacific franc, and the exchange rate is roughly 100 francs to 1 US dollar. You can order currency from your bank, or exchange at an exchange office, the airport, or on the boat. There are ATMs on the main islands and the main cities and attractions take American credit cards. It's not a barter world, so you don't have to haggle for prices at stores or markets.
Which islands did you visit?
French Polynesia is made of up many islands which are grouped into smaller archipelagos; we went through the Tuamotus, Marquesas, and Society islands. We started in Tahiti (part of the Society islands), and our first stop was to Fakarava of the Tuamotus islands. Next, we sailed to all of the Marquesas islands- starting with Fatu Hiva, then Hiva Oa, Tahuata, and then Nuku Hiva. We then visited the Society islands, which consist of the most well-known islands: Huahani, Bora Bora, Moorea, and Tahiti.
Most people, if they're not here on a cruise, visit Bora Bora, Tahiti, or Moorea. Those are probably the most commonly visited islands. All the islands have a totally different flavor or feel to them. There are historical sights, there are cultural sights, and of course the beach. One major excursion we did took about 4-5 hours, and we went to a home that was turned into a resort and snorkeled there. They had endangered species of turtles, fish, and other animals that you really can't find anywhere else.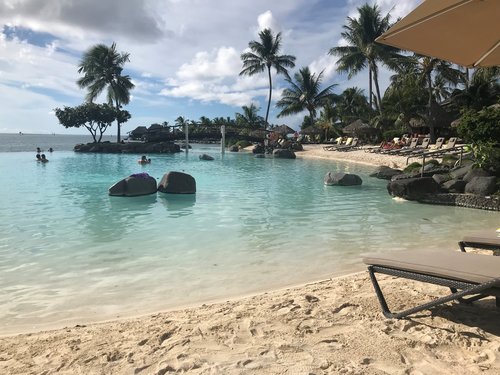 Can you provide a summary of your trip?
This was my second trip to Tahiti- when I went last year, I visited the Cook & Society Islands. This sailing was a reunion cruise, meaning it's for people who have sailed with Paul Gauguin before and wished to come back. A lot of people onboard already knew each other from past years, as many people have been sailing French Polynesia with this cruise line for many years. This sailing becomes available once every other year, so it quickly sells out. What's unique about this trip is that Paul Gauguin is the main cruise line in this region, they have relationships with all of the ports and local people, so they have access and insight that no other cruise line can offer. It's a very family feel onboard with the staff, locals, and crew members.
The ship itself is a small ship- there were about 336 people onboard, and the passenger to crew ratio is 1.5 crew to 1 person. The service is exceptional, and they memorize your morning coffee order, the food is delicious- it's all just amazing. The food is fresh, much of it is from local markets or is freshly caught. They treat you as if you are family. Every day, they have lectures providing information on the different destinations, they have private wine tastings, they have activities like an illusionist, bands and singers, casino and so much to do! It's a trip of a lifetime. They also offer activities with local people such as making shell necklaces, ukulele lessons or simply learning about their traditional clothing. On the back of the cruise ship is a marina, so once you're on board you're given snorkel equipment customized to you, and you can scuba dive when you're in port.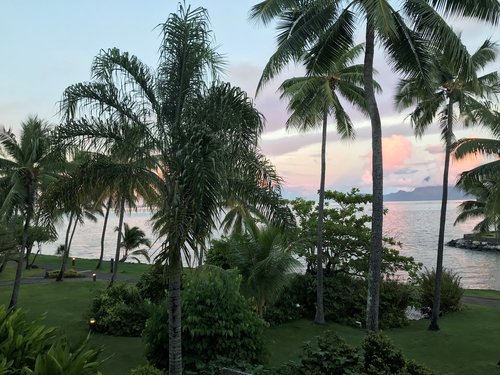 Another unique part of Paul Gauguin is that there is an island called Taha'a, of which they own ¾ of the coastline. As part of the cruise, travelers are able to visit there and they set up a whole day of amazing experiences on essentially a private island- this includes massages, a BBQ, water toys, fresh coconuts, wine and beer, and simply laying out. The sights are so spectacularly beautiful, it's almost enough to make you cry. The water has so many shades of blue, and the nature with beautiful birds, and atolls and volcanoes.
We went to a place with freshwater, where we were able to see the sacred blue eyed eels. They're about 6 inches wide and about 5 feet long. They're amazing! They taught us about the culture and history of the island. We also visited different historical sights. When the ancient people of French Polynesia worshipped their gods, men and women worshipped separately, so there were different temples that look like stacks of stones. French Polynesia is also known for their pearls, so we went to a pearl farm, where we learned about different pearls, how they're made, and how they tie into French Polynesian culture.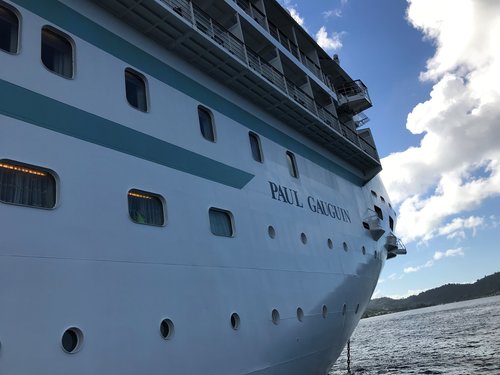 What was your favorite thing you ate during your trip?
The fruit and juices were so fresh and amazing. The pastries onboard were delicious, too. The restaurants on the ship changed their menus every day, and it was always good. I would have to say my favorite thing I ate was crème brulee- they have it everywhere! A lot of people order it first and eat it before their dinner, it's called "dessert first." I'm pescatarian, so the vegetarian options were also delicious. Paul Gauguin takes care of everything- so even if you have complicated dietary restrictions, there is a nutritionist onboard to help determine what you might need.
What is one thing you're glad you did, saw, or experienced?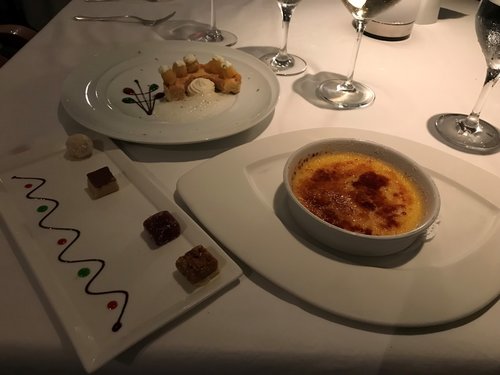 There were so many amazing adventures! We enjoyed fun activities like "goofy golf," and a ship building contest (from materials onboard). Personally, I come from the art world, so the cultural and art experiences were amazing, plus interacting with the nature and wildlife is like being in a whole different world. I've already booked another cruise for next year!
Another experience that stands out was on Bora Bora, we booked a last-minute catamaran excursion that lasted about 3-4 hours, and they took us all around the island of Bora Bora. There were only 4 other people on it, and it was hosted by a French Polynesian woman and her French partner. She made us fruit drinks, we went snorkeling, and it was a really fun, unique experience. At the end of the cruise, she asked everyone to come to the front of the boat, and she performed a Polynesian farewell dance on top of the catamaran. It was such a beautiful, intimate moment that it makes me emotional to just think about it. That gave me such a sense of how people treat each other there. What I found is that the people who are in the tourism or service industry here are not in it for the tip- they're genuinely caring and want you to have an amazing time without expectation of tipping.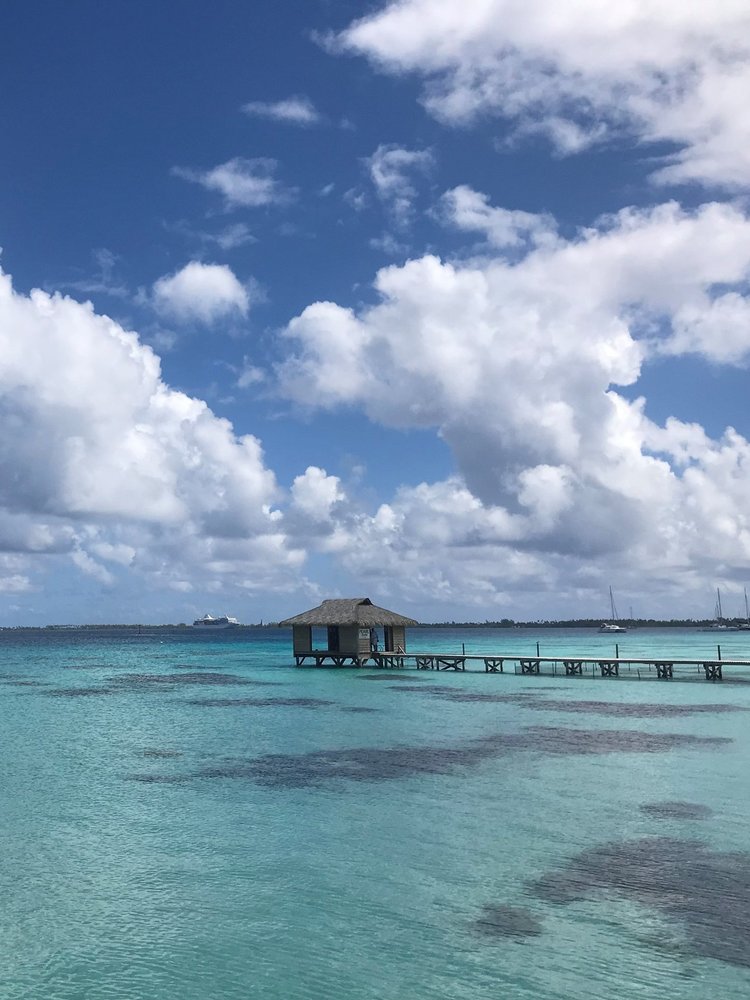 What are some lesser-known or underrated activities- either on the boat or on land?
I would say to check out the smaller islands and take advantage of the cultural opportunities like seeing native dancers, doing local crafts and artwork, eating different foods you've never tried- this is the place to disconnect from the rest of the world and lean into the experience.
Onboard, a very special thing you can do is you can get married or renew your vows!
Can you name some cultural faux pas/taboos to keep in mind? What are some cultural customs to be aware of and sensitive to?
The biggest thing is to be polite. Also, be aware that they run on island time so things move pretty slowly. Many people on the larger islands speak English, if not French but on the smaller islands, some people only speak Tahitian. The people are very proud of their history and culture, so it's very important to be respectful of that. They dress pretty conservatively as well.  It's interesting because they still celebrate and honor their ancient culture, but since Catholicism came to the islands, the region has become mainly Christian and Catholic. This isn't necessarily a party place, it's family-oriented, relaxing, and laid back.
The tipping culture is much like Europe- servers are paid a living wage so if you enjoyed their service, you can leave a small tip but it is not expected. My best advice is to learn a few basic Tahitian words like hello and thank you.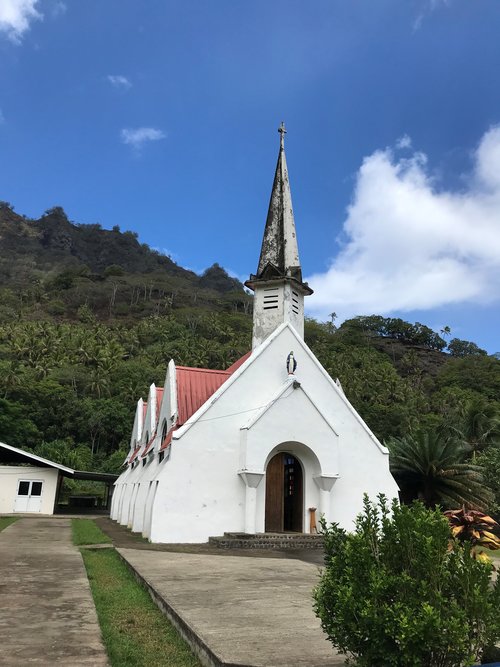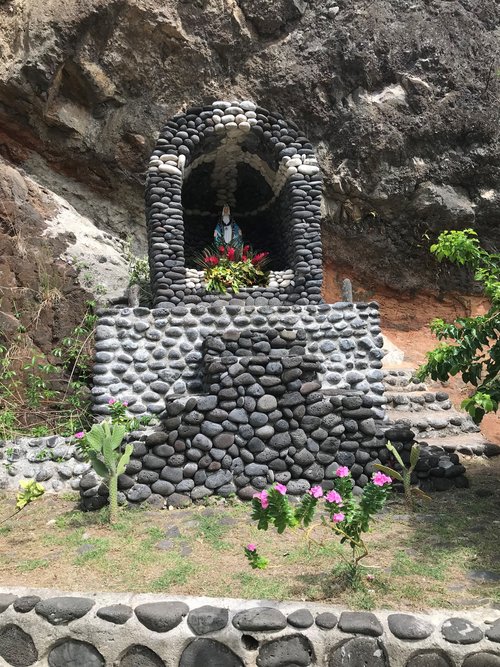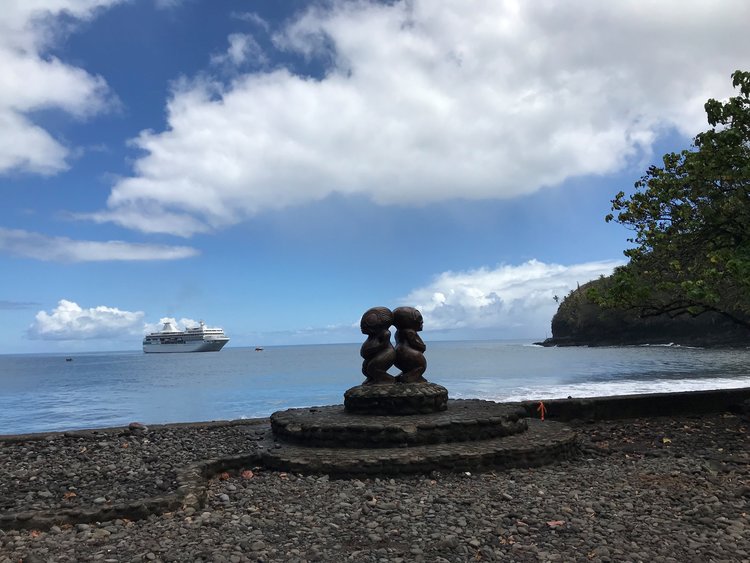 What was the climate when you were there? What did you pack to wear?
We went toward the end of April so it was humid and in the 80s. We only had one day of rain, but I would recommend bringing a rain poncho or something similar just in case. Unless we were on an excursion or at dinner, I was often in just a bathing suit and cover-up! Even at dinner, the dress code is "resort casual."
Bring sunscreen, a hat, sunglasses, sandals with a good sole and straps, and water shoes in case there are rocks along the beach. If you're expecting to explore on the islands or hike, boots or sneakers are necessary.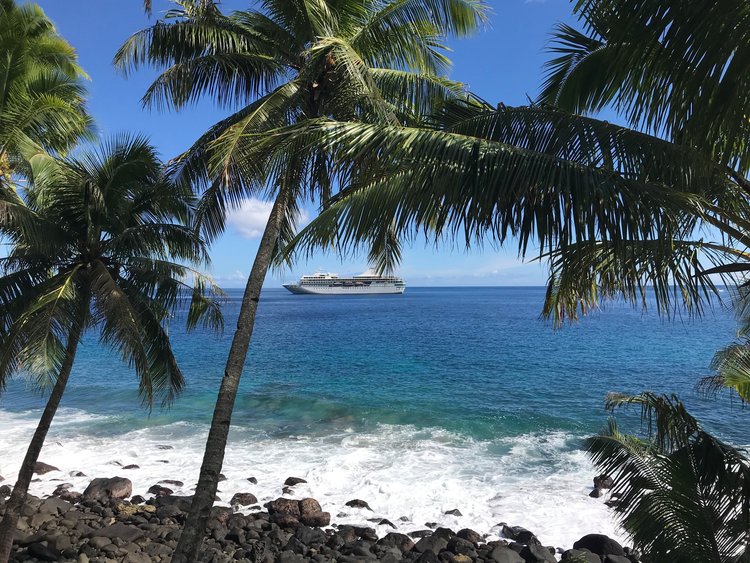 What is the best way to get around the area?
The easiest way to get around when on land is to hire a driver. You don't have to be concerned about safety or being overcharged- the people are very friendly and want to help you have a memorable trip. To go to different islands, you can also reserve a spot on the many boats that go to and from each destination multiple times a day- the islands are not far from each other.
The locals predominately use bicycles or motorized scooters to get around, in the larger towns or cities, there might be some local buses, but I don't recommend this to those who are not very familiar with the area.
What kind of trip would this be categorized as? What type of traveler is this tailored to?
The average age on the ship is 50 and
up. I would not recommend this to people with mobility issues- these ancient islands are not ADA accessible. It's definitely tailored to active people that are into culture, nature, and history. This is also a luxury cruise, thus is for people who prioritize the perks of beautiful accommodations and exceptional service over a bargain price tag.
What would you say to someone considering visiting French Polynesia?
This is definitely a bucket list place, and though it's far from the US,
if you're really looking for something special, this is it. Conlin Travel and Paul Gauguin staff are always available and willing to help those interested in planning the perfect trip, answering any questions, and providing all of the information and details one will need to experience this magical trip.
Interested in learning more about French Polyneisa and/or Paul Gauguin cruises or ready to book? Contact Janet today! She can be reached at jtorno@conlintravel.com, or call 734-677-0900 ext. 3102.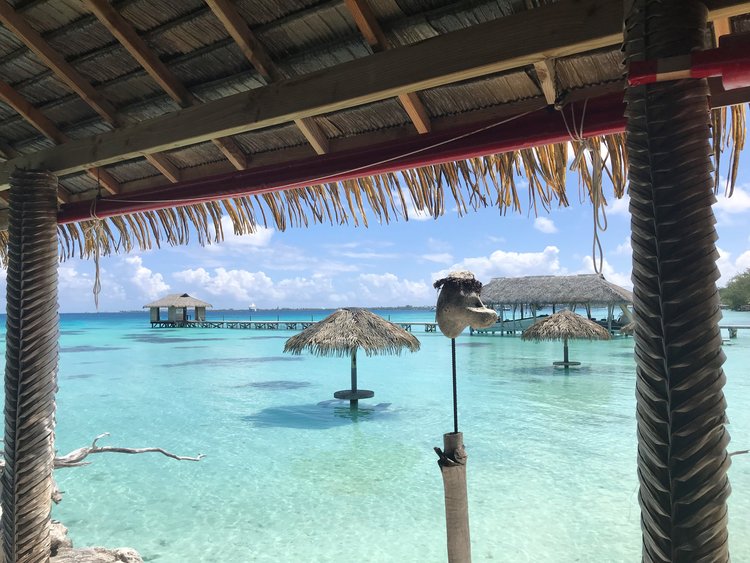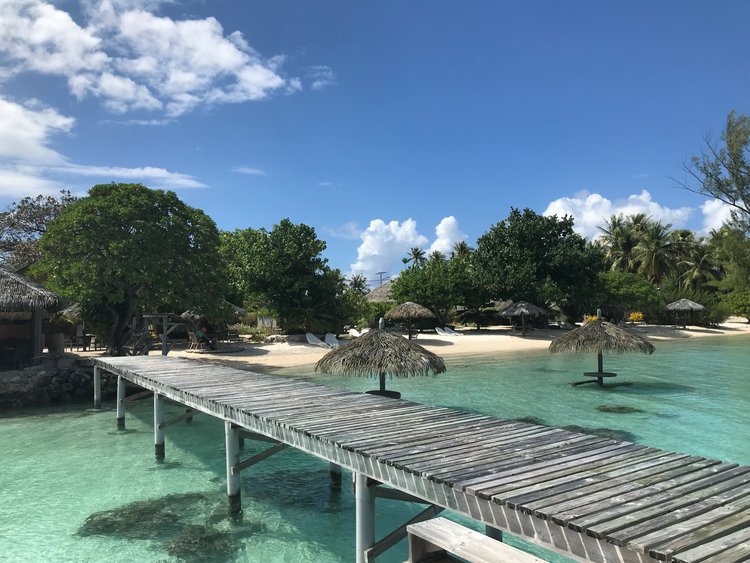 \