July 8, 2021
This South African Experience Will Have You Packing Your Bags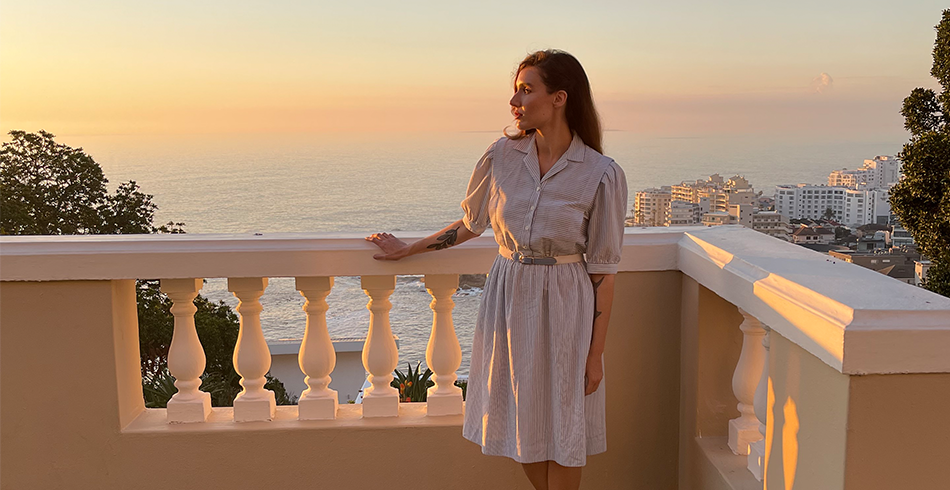 What if I told you that I found a vacation destination that is like medicine for the soul – a place with adventure, relaxation, and rejuvenation – sounds too good to be true, I know.  Yet, South Africa is unlike any other place (and for those that have already visited, you know what I'm talking about), with activities that will satisfy every walk of traveler.  I've dived at night with manta rays, dined at Michelin star restaurants, and slept in the most luxurious linens – I for one felt I'd experienced the best of the best – or so I thought.  Enter Swain Destinations' South Africa; an itinerary that reignited my excitement for escaping to faraway places, after a year of daydreaming and screen-streaming my travel fantasies.
We begin with a flight – or two – from the U.S over the Atlantic Ocean.  I flew Qatar Airways from Chicago to Doha, then Doha to Cape Town on the outbound.  Economy on the former leg, and Business on the later, as I wanted to get a feel for whether an upgrade is worth the spend when you're in air for 9-15 hours.  Let me tell you – IT IS.  While Qatar Airways has a lovely main cabin seating arrangement (3 4 3, for those curious), there's no comparison to the level of comfort you'll receive when flying in their QSuite business and first-class cabins.  Lay-flat seats with turn down service, a pair of pajamas, and gourmet menus (see my breakfast bounty below) gave me the 9 hours of rest and replenishment I so needed after 13 hours in economy.  Lest I forget to mention – there is a WINDOW in the bathroom – to the exterior, I should specify!  I was perked up and positively brimming with excitement when we touched down in Cape Town.
The first day was a combination of getting our land-legs back, as well as immediately immersing ourselves in the history and heritage around us.  After checking into our perfectly pink home for the night – Mount Nelson, a Belmond Property – myself and the agents accompanying me on this Swain trip took to prepping for high tea with Christo Brand – Nelson Mandela's former prison guard turned good friend.  A mixture of delightful delicacies plus local red bush (rooibos) tea paired perfectly with the inspiring stories Mr. Brand shared.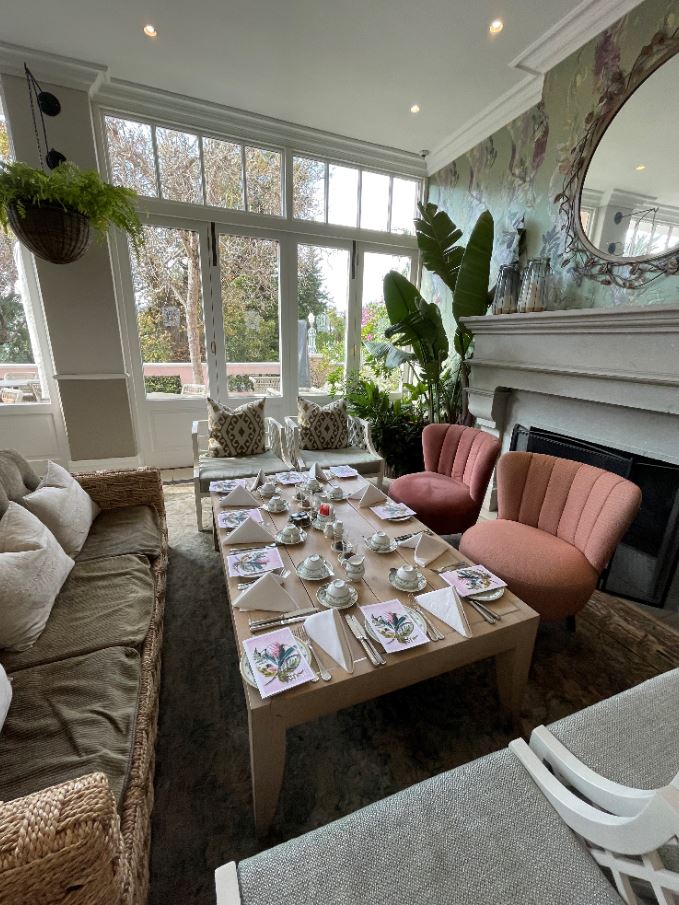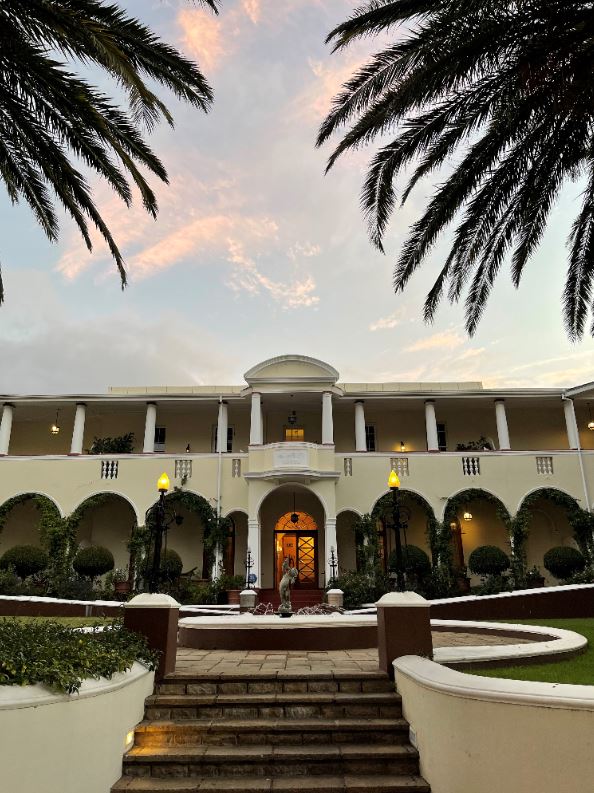 Soon after we were whisked away to tour the grounds, after which we had dinner and drinks in Mount Nelson's darling bar & restaurant.  My body not sure exactly what time zone I was in quite yet (but better off for having flown leg two in business), it was time for bed – all the while simply buzzing with happiness to find myself in South Africa.
The next two days were a culmination of local sightseeing, dining and doing sun-downers (South Africa's "happy hour"), visiting some of Cape Town's most renowned locations.  Every moment here was incredible, so I'll provide I brief snippet on each, in the hope that should you be interested to learn more, we can have a full conversation on it's qualities!
Riding up to the top of Table Mountain
Visiting the colorful housing district of Bo Kaap
Snorkeling in Hout's Bay with seals
Dinner at Ellerman House (out of this world wine cellar and staff!)
Staying at the renowned One & Only Cape Town
A picnic lunch with David Bowie/Rolling Stones/SO many other artists' former chef Nicky Gibbs
I could go on, but I'm only a third of the way through the trip here, so let's continue on to the Cape Winelands for a sip, shall we? Or should I say WINE not (queue eye-roll).  Franshoek, Stellenbosch, Parl – the 3 pillars/towns of grape varietal goodness in this area of the continent.  Each with its own terrain makeup that give each vineyard their unique tannins.  We were lucky enough to enjoy the former two (Parl, I WILL be returning, and bringing clients with me!), via such wineries as Stark Condé, Tokara, and Anthonij Rupert.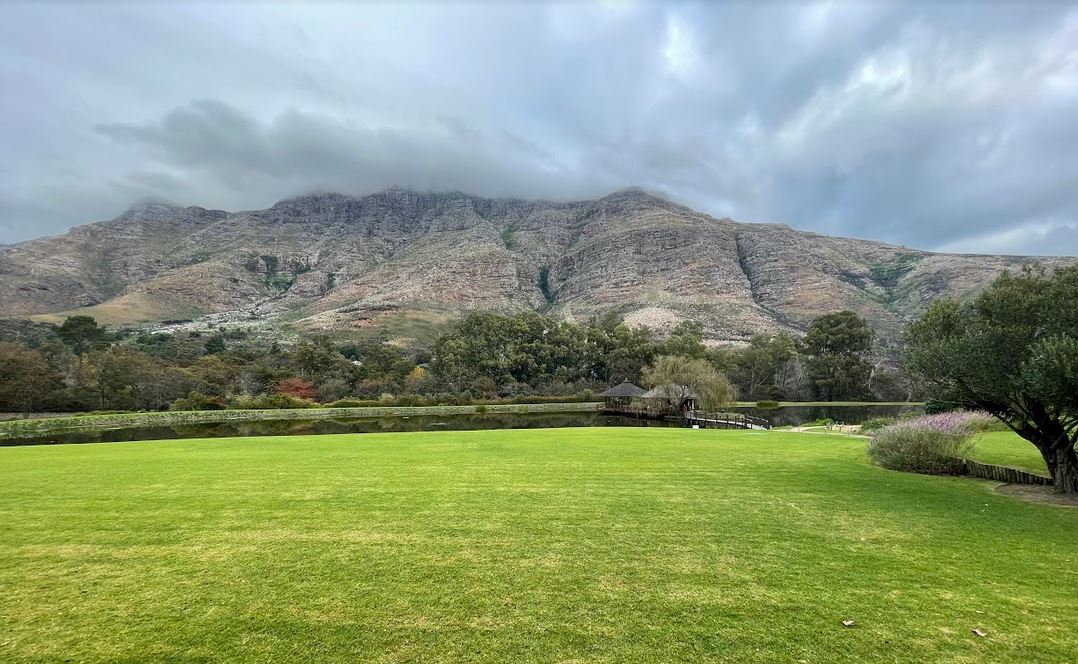 My favorite of the bunch?  As bubbles are never a bad idea, I particularly enjoyed the bounty of vintage bruts at the latter.  We were treated to a nougat and brut wine pairing – the L'Ormarins Brut Classique being my favorite (crisp, not too sweet).  Our time in this pocket of South Africa was made all the more delightful because of the warm and welcoming people at Mont Rochelle – a family-friendly property appointed with classic-with-a-twist furnishings, and 5-star service.  I would expect nothing less when booking with Swain, but it was the perfect place to call home in-between tastings.   The centennial celebration of the Pinotage – South Africa's signature varietal – is February 2022 – do I have any takers for a group trip?  I know where I'll be!
After our time with wine wrapped, it was off to Joburg for an overnight at the character that is colorful Fairlawns Boutique Hotel and Spa.  With a different décor scheme in every room, it's a fantastic spot for those whose bush flight doesn't leave until the next day.  Now that I've mentioned it – onwards to the safari, shall we?  When you imagine Africa, I'm sure one of the images that comes to mind is the Big Five – Lions, Elephants, Leopards, Rhino, and African Buffalo.  Let me tell you – the real thing doesn't disappoint on any of those animal fronts!  Our chariot-transfer – Federal Air – took us from Joburg (what the locals loving refer to Johannesburg as) to Ulusaba – Richard Branson's Private Game Reserve.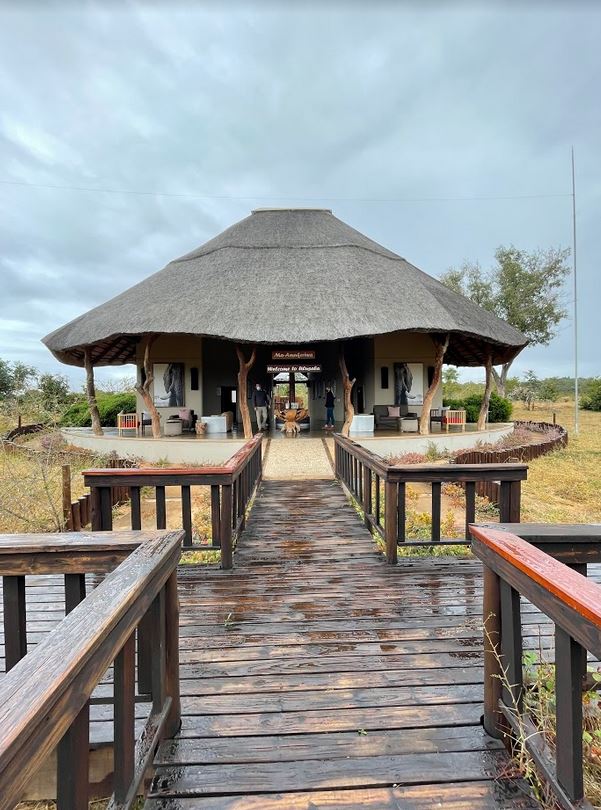 Greeted by mimosas and the Ulusaba management team – it was a check to make sure our covid tests were all clear and then off to our new digs.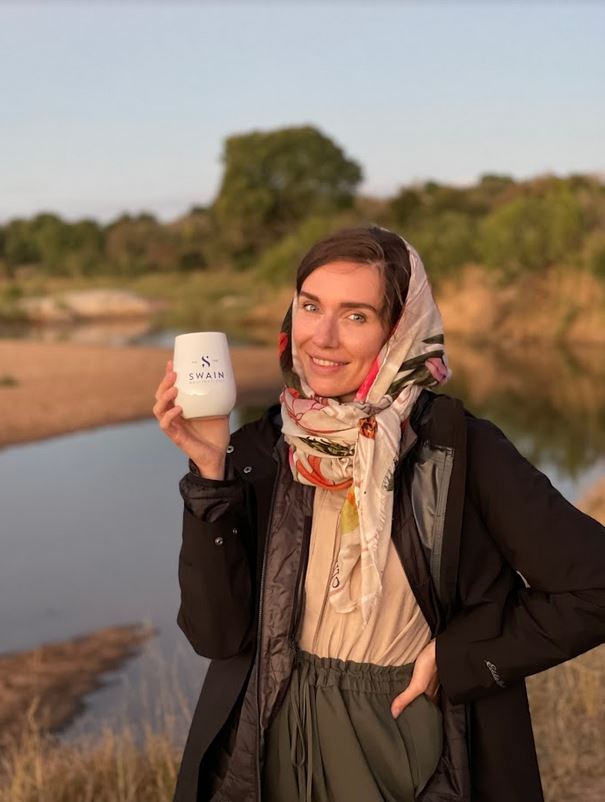 Safari Lodge is the quintessential safari property, with the added 5-star amenities that are standard for the brand. Our guide (Trevor) and tracker (Dave) allowed a window for us to fit in a quick bite to eat, but I think I speak for the entire group when I say food was the last thing we were thinking about – show us the Big Five!  Well, ask and we did receive.  In just two days at Ulusaba, we saw them all – 3 on the first drive!  Highlights include but are certainly not limited to) a hyena cleaning up a giraffe kill – FIERCELY protective of his find; a pride of lions + their cubs in the early morning mist; a leopardess lounging in the dark of night, then jumping into a nearby tree where she had stashed an impala to save for dinner – expertly spotted by Dave.  I am eager to return and will be requesting this dynamic duo!
Now on to our final – and perhaps the best – destination, which Swain smartly saved for last.  Sabi Sabi Game Reserve was but a private bus ride away, approx. 45 minutes from Ulusaba.  Truly unlike any other lodge in the Kruger National Park adjacent reserves, Earth Lodge was designed to seamlessly meld with the natural habitats that surround it.  It is so akin in fact, that elephants have climbed onto the roof of the property – yes, you hear that right – sadly, we saw no such sightings this trip, but it could be in store for you!  What I did see for certain was a team that absolutely adores what they do, and it was crystal clear – from the food, to the housekeeping, to the nightly flashlight guided walks to our rooms, making sure that no lions lay on our doorstep.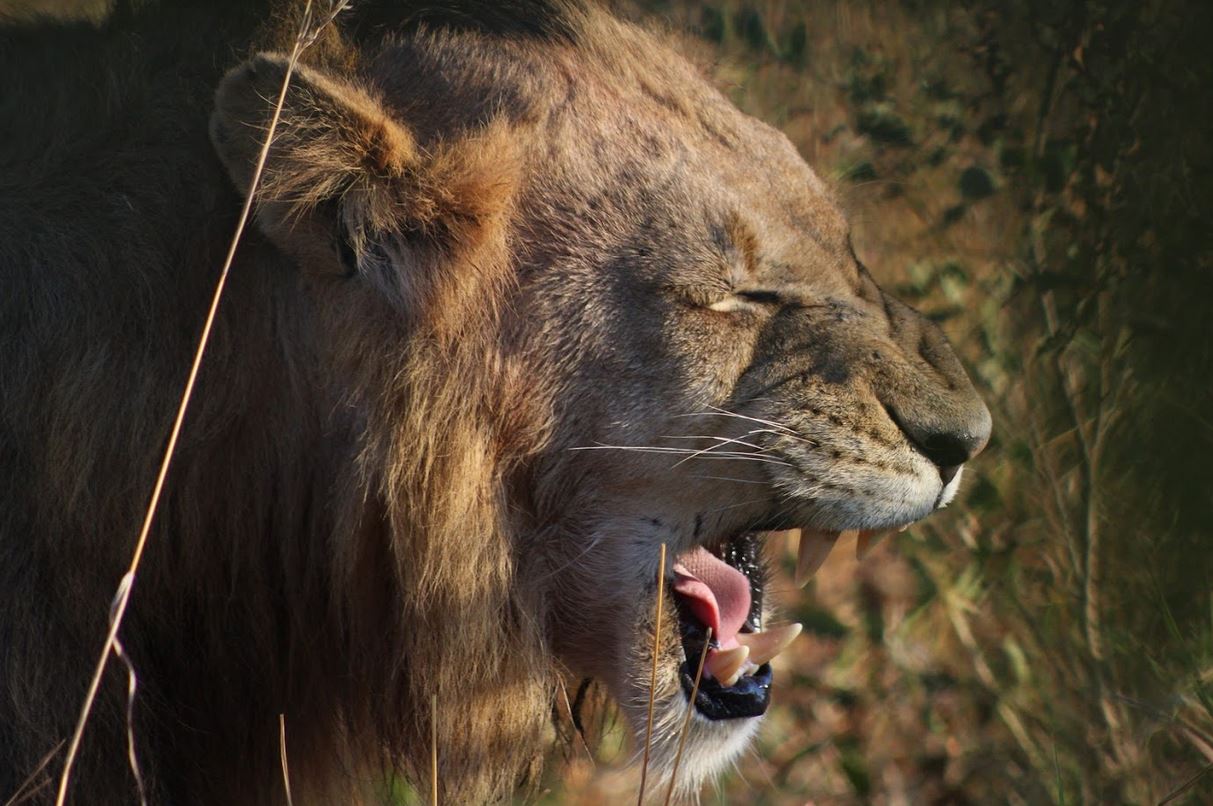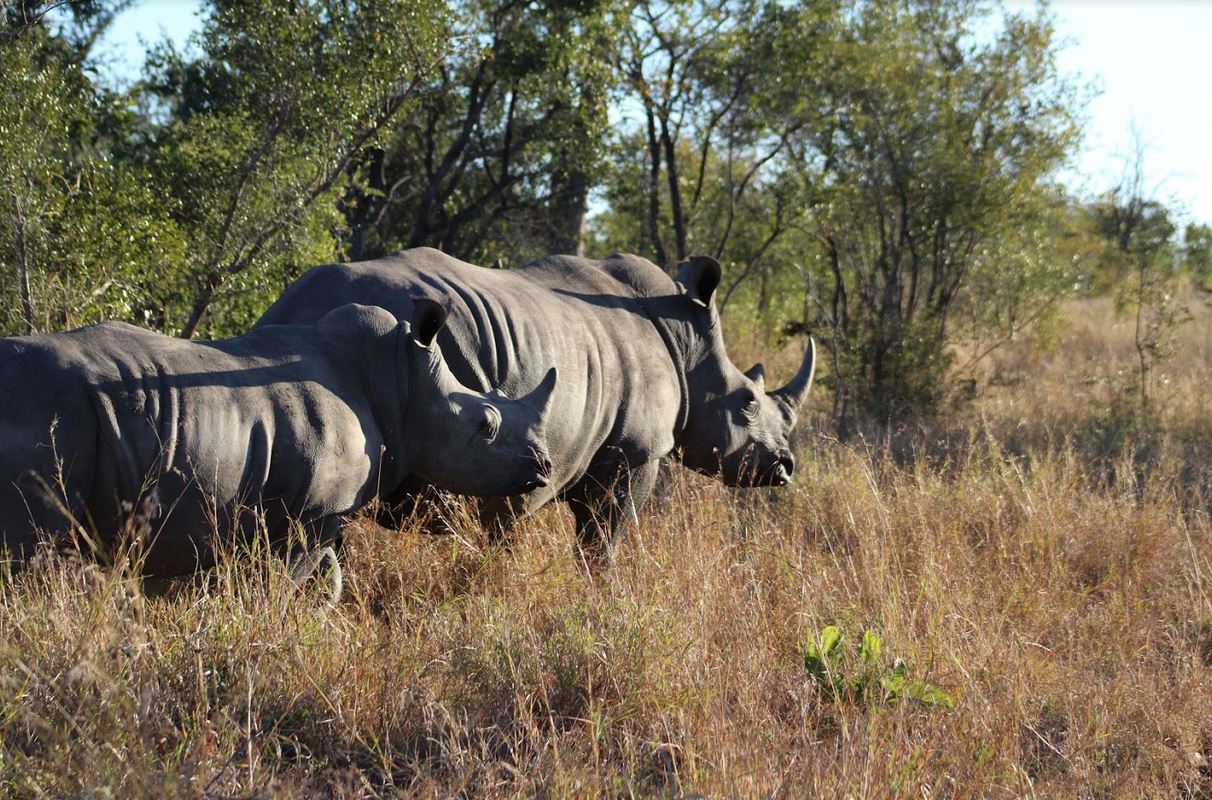 They went above and beyond to keep me feeling safe. From animals that might make us dinner, to explaining steps of precaution to combat the COVID-19 pandemic that is still present in this part of the world.  I didn't want to leave, and I can't wait to come back.  Kudos to Jaqcues Smit – Sabi Sabi's Marketing Director who made sure no question was left unanswered and made the end of our Swain Destinations South Africa adventure the best it could possibly be.
Give me a blog post to gush about everything South Africa has to offer, and I will not stop!  I truly could write another 1400 words (and more) about what makes this travel destination worth your time now – not 10, 20, 30 from now.  If you are interested in learning more about what your perfect itinerary might look like (we saw a myriad of properties in between the above activities, each with a unique voice that suits a certain style of traveler) – give me a call.  You may find you've lost an hour of time – but you'll gain the trip of a lifetime – I promise you that.
Stay Wanderful,
Olivia Post
*Photos are property of Olivia Post and not available for licensing or creative use.