January 9, 2020
REAL ID Requirements
Effective October 1, 2021, U.S. citizens ages 18 and older who wish to travel domestically must hold a REAL ID-compliant driver's license.
WHAT IS REAL ID?
The United States Congress passed the REAL ID Act in 2005 in response to the 9/11 terrorist attacks. REAL ID-compliant documents are an additional step in establishing greater travel security and preventing illegal copying. The new licenses are necessary to enter federal facilities and nuclear power plants, as well as to board federally regulated air crafts.
All U.S. states and territories must be compliant and produce REAL IDs by October 1st, 2021. As of this writing, all but 5 states and territories are compliant. Beginning October 1st, 2021, all travelers are required to show a REAL-ID compliant document or other accepted form of identification to travel by air within the U.S. and its territories. Aside from the 50 states, the territories also expected to comply are Puerto Rico, U.S. Virgin Islands, American Samoa, Guam, and the Northern Mariana Islands.
DO I NEED A REAL ID?
While circumstances may differ for each person, you likely do NOT need a REAL-ID if you:
Do not fly and you do not plan to enter certain federal facilities, such as military bases and nuclear power plants.
Have an acceptable alternative to a state-issued REAL ID-compliant driver's license or ID card, such as a valid U.S. passport or military ID.
HOW DO I GET A REAL ID?
Your state's driver's licensing agency website will offer information on the documents required to receive a REAL ID. At minimum, you will be asked to bring documents proving your full legal name, date of birth, residency, social security number, and two proofs of address. It is recommended to check online before visiting the agency in person to save you time and hassle!
The Department of Homeland Security's website covering REAL ID is also a helpful resource, displaying an interactive map with information on each state's compliance status and frequently asked questions.
WHAT DOES A REAL ID LOOK LIKE?
To know if your license is REAL ID-compliant, check for a marking with a star in the upper right-hand corner of your card. Markings can look like one of the following: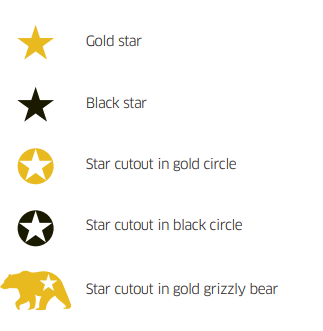 Examples of REAL ID-compliant licenses may look like: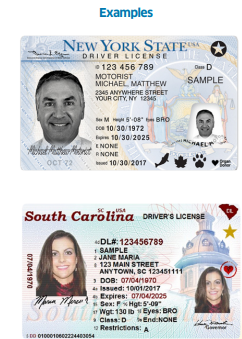 For more information, refer to the REAL ID fact sheet provided by Homeland Security and TSA here.